Top Beaches in Costa Rica. Forget Hawaii and the Mediterranean. See great photos of Costa Rica's Beaches and a article on Black Sand Beaches in Costa Rica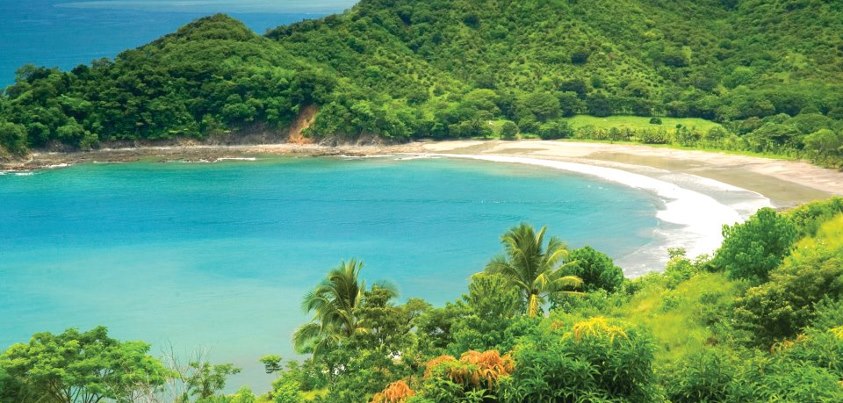 Corcovado - Corcovado is on the Costa Rica's Osa Peninsula. Its beaches are ripped with brownist sands that are shielded by palm trees. Inland is one of Costa Rica's eco-zones the Corcovado National Park, which has some of the coolist wildlife in the world. One of the highlights is to take a charter boat ride to Isla del Caño, a divers pardise and a archaeological dream to see the Island's pre-Colombian stone spheres. It has been established as a protected national park, with a permanent ranger station on the island. Marine life includes manta rays, dolphins, sea turtles, whales, and a wide variety of tropical-colored fish.
South of Limon - Like Corcovado, South of Limon, has the Cahuita National Park and Manzanillo just two more eco-zone that Costa Rica sports. It is not uncommon to hear monkey chatter and see them swinging in the trees. South of Limon takes on the personally of a kick-back Jamacian lifestyle with the beaches to match. Now head toward Panama and you run into the the town of Puerto Viejo. which is probably best known for its mesmerizing sunsets. The Caribbean side also has two of the best clothing optional beaches, resort Mi Amor with adult theme nights and Jo Jo Jungle Retreats

Tambor - Tambor at one time was inhabited by whales, and since, replaced by travelers. Lazy-arched bays calm the swells and make the waters glassy, a perfect spot to swim, snorkel, scuba drive, and pinch sand between the toes when taking a sunset walk. Inland you can horseback ride, take a hike, and/or enjoy the quite lifestyle.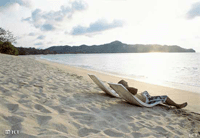 Nicoya Peninsula - Costa Rica's largest peninsula (Northern and Southern part) has so many strips of sand, it is truly on one the top beaches in the world. Tourist packed beach cities like Montezuma, Tamarindo, Conchal (pictured on the left) and Mal Pais - to those more remote and relaxing like Playas Hermosa, Samara, Flamingo, Conchal and Playa Grande, lets Nicoya claim ego to its beauty.

Manuel Antonio - Manuel Antonio is just another example of one of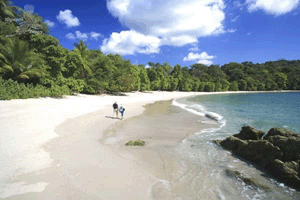 Costa Rica's most awesome and calandered beaches. Now think about his, walking along bays flanked by ivory sands, emeral waters, and jungles where you can hear and see waterfalls. Drop the Imperial for a few hours - put on a set of fins and face mask and enjoy the sea life. Oh yes, you can also zip line, hike and paddle a kayak, all in one day.
Punta Uva and Montezuma - Located (pictured below) is what many say, "The heart and soal of the Nicoya Peninsula." Montezuma has become a curious stop of tourists who are enchanted by the beache's array of locals. From the braided hair of Rastafarians, to sun scared surfers, to punkers (with all their tatoos and piercing), add to the unique characteristics of this haven. Nature comes together with tall coconut palms lining the shore, waterfalls and the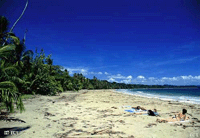 indangered Scarlet Macaw squawking at jungle tree-tops.
Tortuguero - Blunty putting it, Toruguero on Costa Rica's Caribbean side is an eco-junkie paradise. With over 20 endangered species in the Tortuguero National Park, eo-junkies are in heaven with its tapirs, ocelots, manatees, and green sea turtles. Tours range from, taking a solo hike or go with a well informed guided safari, or you can be adventous by paddling up the river in a dugout canoe. Oh yes, you can also sunbath on one of it beaches. Clothing optional in some areas.

Playa Tamarindo - Playa Tamarindo is the mecca of tourism in Costa Rica. Fact, expect Hawaii prices with its dining, bars, shopping, dining, lodging, and other activies you may want to do. However, in all fairness, Tamarindo's natural settings will make you forget about the $30 T-shirt you bought at some street side vender - its surrounding beaches on the beautiful beaches are the home to the giant leatherback turtles (and others) where they annually climb up the beaches to lay their eggs. However, be careful, distrubing these shelled creatures will land you a nice fine!

Mal Pais - If you're not a surf or sun guru, Mal Pais may not be the beach for you, that is if you do not like looking at throngs. This is the place where you would be swapping stories about how "Cool I got tubed." However, all it not lost if you don't like drinking ice cold Imperials while catching a few sun rays. It does have it nature-worshiping areas, which makes this place worth while to visit. You can get on a boat tour and take a gander at the areas protected waters. Or jump from the Montezuma waterfalls into crystal clear waters. Or if you are savvy, take the three hour walk through the awesome Cabo Blanco Nature Reserve where you will end up on some isolated beach. Take a mate, and have some adult fun ;-).

Jaco - In less than a two hour drive from San Jose is the surfer and sportsfishing city of Jaco. Jaco has become somewhat the Pacific hub of Costa Rica beach travel. Most known for it 24/7 entertainment with its casinos, discos, bars, adult activity and international dinning, it flourishes and keeps the locals very happy with the tourist bucks. Unlike, Playa Tamarindo it caters to the low budgeted in accommodations and amenities. Jaco is one rip roaring town.