Juan Santamaria International Airport - San José, Costa Rica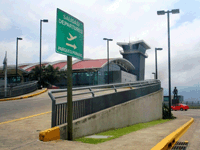 San Jose Airport is just like any International Airport. It may not be as big as Miami or LA, but the excitement of just arriving in Costa Rica is what pumps the blood.

ARRIVAL TIMES AND DEPARTURE TIMES

Contrary to belief that it is a government operation, it is run, maintain, and administrated and operated by a private company Alterra Partners, who won a multiple-year contract to do so. And it is not in San Jose (even if its airport code is SJO) but in the North-west province of Alajuela, in the town, El Coco - thus requiring a 20-30 minute drive to San Jose. Between 2007- 2008, the airport had some major remolding and it is very nice and clean. Restrooms are kept spotless, tile floors sparkle and the general appearance is modern like any other major airport.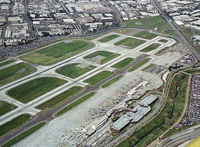 On your arrival, and heading to clear immigration, all passengers are flanked by quite large and the usual range of souvenir shops, cafés, Americanized fast foods (like Burger King), duty free stores and bars. Expect to pay about $8 for an Imperial Beer if your thirst demands it.

TIP: The best bar is downstairs; you will find it with the arrow pointing downstairs to the SMOKING ROOM also it has rest rooms that are not crowded. This is a good place if you have a baby, to do your thing.

Soon you are directed down a flight of stairs, at which time you will be required to clear immigration and be prepared to wait.

This can take anywhere from 20 minutes to several hours. So, if you have a connecting flight from SANSA or Natural Air allow time for this. It is better to wait, then to miss your hop to wherever.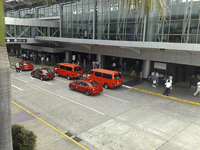 After proceeding through the immigration process, and if you have baggage, you will head to the left side of the departure area where you will be directed into one of two lines, 1) being for passengers with two or less bags, the other for those with three or more pieces of luggage. Expect to have your baggage inspected and in some cases they may send you to secondary. Obviously if you have carry on you can go your merry way.

Once clearing customs, you head up a flight of stairs towards the exit of the airport. Along the way, there are a ton of counters and displays where tourism guides and magazines are available with very kind representatives who are eager to help and assist you if you have any questions.


If you do not have someone waiting for you, there is a local bus stop outside the airport. The taxis charge anywhere from 15-20 USD to take you to the city, be sure to take one of the licensed reddish-orange taxis that say "Taxi Aeropuerto." There are many unlicensed taxi drivers who will charge you almost twice as much as Taxi Aeropuerto. The taxis gladly take Dollars, but the local bus only takes Colones

One of the nicest things is, there is a couple ATMs by the entrance to the departures that will give you both Colones and Dollars. And when departing, there is an airport exit tax that must be paid before leaving.

TIP: Check with the hotel you are staying at and many will let you paid in advance, which will save you a lot of standing in line time.

The Juan Santamaria International Airport was named after the brave drummer boy Juan Santamaria, who died in the Battle of Rivas in 1856 defending his country against the invading forces of American invader William Walker.