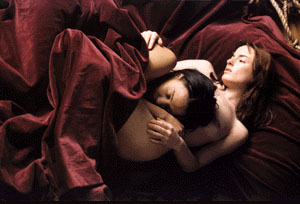 GAY and LESBIANS in COSTA RICA
Costa Rica has become Central America's hub for Gay and Lesbian travel starting around 2000, when the country became more open to Gay and Lesbian lifestyle. One of the main reasons why this has happened is that gays and lesbians tend to be great travelers, well behaved guests, don't like to get out of hand (unless they are in their own environment) and most important, have money and love to spend it!

Even if the country is predominantly Roman Catholic, the church seems to have turned its cheek and not to take an active role, like it did in 1998, where it managed to get the gay/lesbian parade cancelled that was supposed to be held in San José. They also got involved in a getaway gay tour to Manuel Antonio that was heavily publicized. As of 2007 the gay/lesbian travel has skyrocketed and shows no sign of decline with the church now taking a back seat with the clichés. "Hear no Evil, See no Evil, Speak no Evil, " or "Don't Ask - Don't Tell" bias attitude.
One of the surprising things that has also happened, the government agencies very rarely hassle a traveler about his/her orientation. However, gays and lesbians must realize that they are traveling in a old world and traditional country whose residents may not take likely to their lifestyle, so be as cool as possible, respect the country ,and not openly flant your lifestyle until you get into an environment where you can cut loose, like at some of Costa Rica gay all-nude beaches.
Great photos of Costa Rica's Beaches and article on Black Sand Beaches in Costa Rica

TIP: It is best to know where you are going and plan ahead. Buy a map and get an ideal of what place(s) you want to patronize. Always take a newer looking taxi and with a driver that is older, even if it looks to be a few blocks away just to be safe and tip generously.
TicoTimes.com Note: If you wish to add comments etc or new listings, please feel free to email us
Costa Rica Gay and Lesbian Travel, Hotel and Resorts - websites of gay-friendly hotels, resorts, and travel info.

Gay Costa Rica - The offical Gay Website of Costa Rica - In Spanish
Gay in Costa Rica - Doin' Gay in Costa Rica - Best Blog for hotel and bar reviews, gay culture, gay life and other useful info

San Jose - Triángulo Rosa
E-mail: atrirosa (at) racsa.co.cr
Tel: (506) 258-0214
Human Rights Organization for sexual minorities. This organization will have infomations on many other gay and lesbian places.

POPULAR NIGHTCLUBS and ENVIRONMENT for GAY and LESBIAN

San Jose - La Avispa Gay and Lesbian Dance Club
Calle 1 Avenida 8 and 10
Tel: (506) 223-5343
The Wasp (bumblebee looking building) is a popular Gay and Lesbian Dance Club with Pool tables and and bis screen TV. The big nights are Sundays and Tuesdays.

San Jose - Bogarts City Gay Show Bar and Restaurant
Corner Calle Central y Avenida 7

San Jose - Deja Vú
Calle 2, Avenida 14 and 16
Tel: (506) 223-3758
This is the best known place for lots of dancing and spectaular shows especially by men. The clientele is elegantly dressed. Don't walk, take a taxi to this place.

San Jose - El Bochinche
Calle 11, Avenida 8 and 10
Tel: (506) 221-0500
An upscale Drinking Bar pretty popular among the professional Tico Yuppies for a night of fancy cloths and flirting.

Quepos - Cockatoo Bar
Above Gato Negro Resturaunt

Quepos - Big Ruby's La Plantacion - Gay Costa Rica Accommodations

GAY BARS AND NIGHTCLUBS in SAN JOSE

La Casita (The little house) de Tarzan:

Punto G - Bar with a modern enviroment.

Los Jocotes - Rustic bar with great food. On fridays is the bear's cave.

Al Despiste Bar - Well known for the "bocas", great variety of tasty food in small dishes.

La Metro - Disco - with alternative area. Videos, restaurant and dark room.

Buenas Vibraciones Bar - a good gathering place to meet new friends

Paseo de los Estudiantes - in front of Mas x Menos grocery

Club Coliseo - nice upscale disco & cruise bars

Detour (large disco) in Barrio California across from the Magaly Cinema, mixed clientele 'til 11, mostly gay after midnight.
Calle 3, Ave. 9 & 11, Barrio Amón.

Los Cucharones - Disco All types of music. Open everyday.
Ave 6 and Calles 0 & 1

Karma (Rest. El Palmar) - bar with music.
Ave 8, Calles 3 y 5

La Tertulia - Tavern & restaurant,
Mon-Sat 100 mts E, 150 mts N. San Pedro church

Gay All-Nude Beach - Playita, Quepos - gay friendly town
Playa Espadilla near Hotel Karahe, 500 meters before the Manual Antonio National Park entrance. Walk to the right when facing the water, pass the crowds and development where you may have to cross a few streams. You'll reach rocky outcroppings which feels like the end of the beach but if you climb over the rocks, you'll be there. It takes about 20 to 30 minutes to get there