Few places in the world offer visitors both natural beauty along with some knowledge and Costa Rica Butterfly Farms are one of them. Discover the beauty of Costa Rica by visiting the beautiful Costa Rica Butterfly Farms during your vacation trip to Costa Rica. Having developed many Butterfly Farms in the past ten years, Costa Rica attracts tourists from all over the world. Get to see from 30 to 80 species of butterflies all in different Costa Rica Butterfly Farms.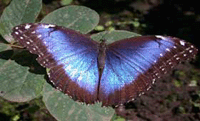 One of the most popular
Costa Rica Butterfly Farms
is located at a distance of about one hour from San Jose. Owing to its perfect climate, Costa Rica is a home to a number of butterflies. Get to know a lot about the butterflies, their role in nature, their defense mechanisms and about the plants they host, all during a visit to Costa Rica Butterfly Farms.
The two-hour guided tour inside the Costa Rica Butterfly Farm lets you enter the world of butterflies. Going on early morning tour in a Costa Rica Butterfly Farm is a golden opportunity to see these fascinating creatures emerging from their chrysalides. The expert guides, who can identify the most beautiful of butterflies flying in the Butterfly farm, will acquaint you with the life cycles of the butterflies. Ever thought of watching and touching the butterfly eggs? Costa Rica Butterfly Farm lets you do all this and more during your Tours to Tourist Attractions in Costa Rica.
A visit to Costa Rica Butterfly Farms costs $25 for adults, $20 for students and $13 for children under 13. The cost includes round-trip transportation along with admission to the garden. Do carry sunglasses, binoculars, insect repellant, cap, pocketknife and camera while going on a tour Costa Rica Butterfly Farms. Catch some of the most precious Kodak moments in your camera with butterflies flying around you.