COSTA RICA TRANSPORTANT GUIDE - Railroad, Taxi, Buses, Shuttles, Charter Flights and Cruise
There are numerous transportation modes and types in Costa Rica, this guide gives you an ideal of what will work best for you and help you decide the best way to get around the country. Many rent cars and others forms of transportation. but some do as the locals and rely on the bus schedules.

Railroads in Costa Rica are owned by Incofer (Instituto Costarricense de Ferrocarriles), and were dormant for years after several back to back hurricanes a while back. However, the U.S, gave a ton of money to Incofe to get them back on track (pun intended). By 2006, Incofer operates suburban commuter trains from San José to San Pedro, Universidad Latina (4 km East) and to Pavas (6 km West), plus freight trains from San José - Caldera (Pacific port, 91 km). A private company - AmericaTravel - organizes weekend tourist trains (The Tico Train Tour) from San José to Caldera.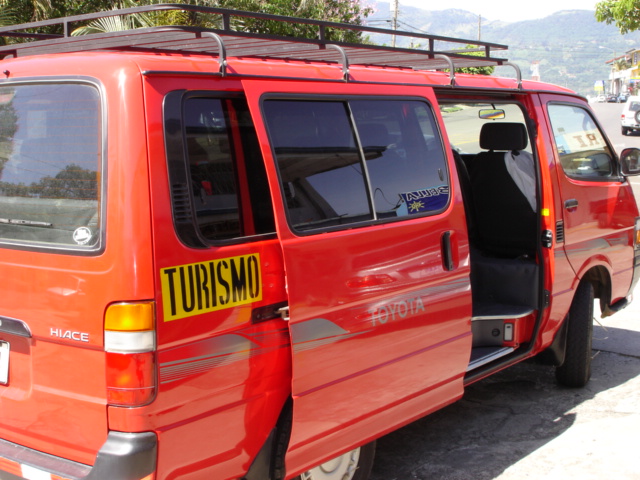 Mini Bus/ Van/Shuttle is the "Little Train that Could" of Costa Rica ground transport whether it be a shuttle or a private transport. These equipped cargo vans are most comfortable when there are 8 or less people, but at times can accommodate a few more depending on the model type and how well the driver can pack them in like sardines in these tin can work horses, making them uncomfortable. If you have had the excitment of driving in San Jose rush hour traffic, you will know what I mean, you may bless the ground at your arrival, afterwards, check your bumps and bruises.

Coaster - is a 25-28 passenger bus (half the size as a Grayhound bus, but twice the size of a Shuttle) that comfortably fits around 20 people with all luggages included. These super-sized van Coasters are great modes of transportation for medium sized groups.

Charter Bus are a big step up from the Coaster Van and can accommodate anywhere from 45-60 people. These big wheels are equipped to handle large groups. One good tip, if you see one pull up just as you are sitting what you think is going to be quite meal or drink, either get the hell out or order quick, because your order will take the backseat to 60 starving travelers. And forget using the restrooms for a while ;-(. Other words, don't drink to many Imperials.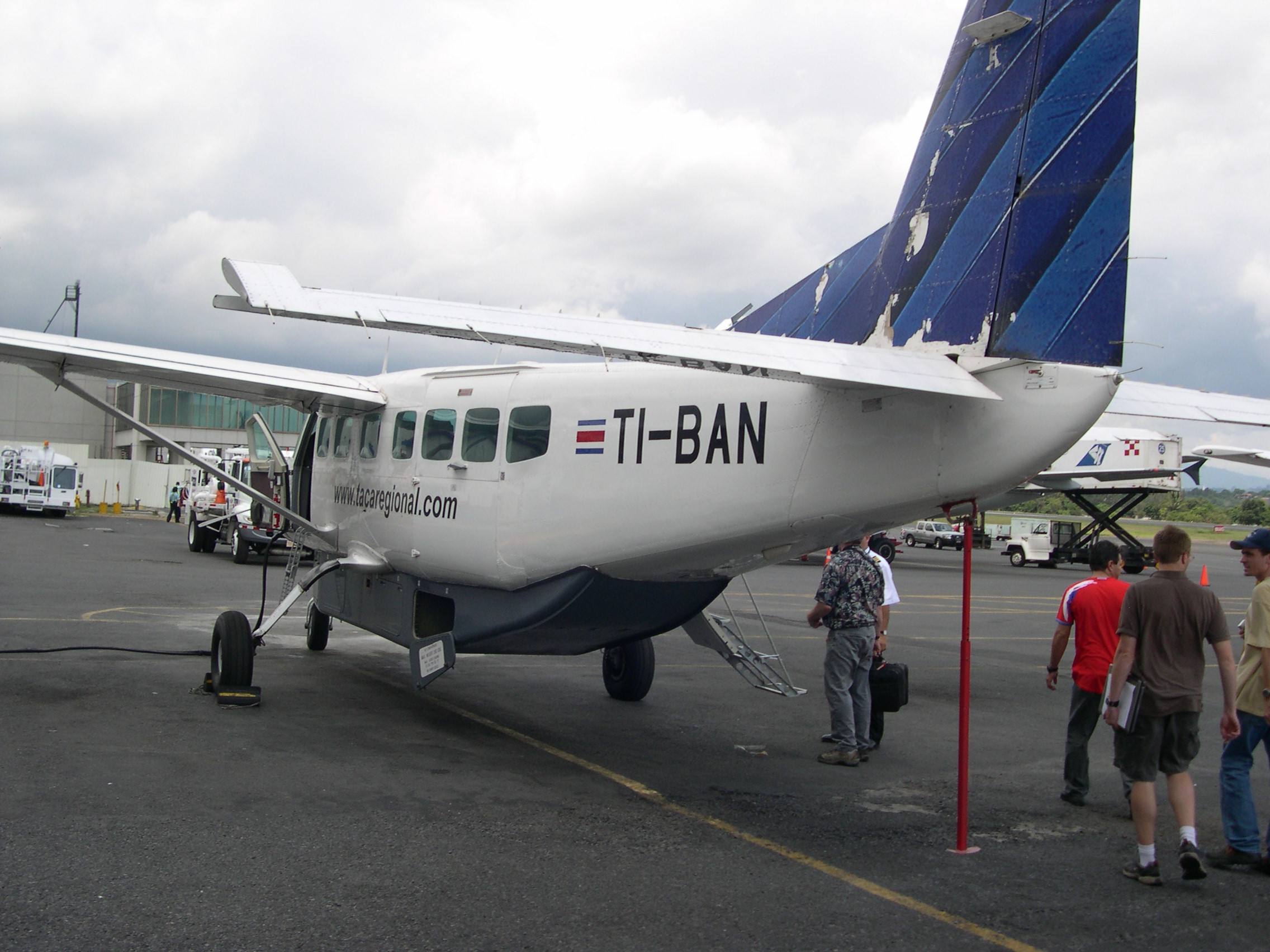 Domestic Flight - There are two domestic air companies that service domestic flights in Costa Rica - Sansa and Nature Air. However, weather plays a key roll if these planes are grounder or not, or you may also find yourself in a different city when your destination was closed to landing. And it is a hit and miss if your luggage arrives because weight is a prime factor before take off. On a recent trip, we waved to our luggage sitting on the tarmac when taking off. In fairness, it was delivered to our hotel within six hrs. Nature Air operates domestic flights and flights to Nicaragua and Panama with a fleet of twin engine planes. Sansa operates domestic Costa Rica flights and also flies to other Central American countries using a combination of ART 42 and Cessna Grand Caravans Planes.


Boat Cruises – are usually comfortably sized and have enough space to move around and really enjoy the scenery. There are numerous places where Catamaran and Cruise boats embark on snorkeling, Sunset and Nature Tours that navigate beautiful bays and lush canals and rivers surrounded by the Costa Rica tropical forests.

Private Charter or Transport - is composed only of your party and offers door to door service and well as stops (anywhere you like since you are paying for the service) and side trips that can be scheduled or not like that cool looking bar with some cute boys, where you just had to stop. Break for meals or if mother natures calls are at your command (Damn Imperials!). Side trips or excursions' along the way are a great way to break up trips and see a different side of Costa Rica. Stop by a small town, have a typical lunch or visit one of Costa Rica's beautiful national parks and take a hike; whatever your interest can be accommodated. Also remember, please tip the driver and/or guide generously.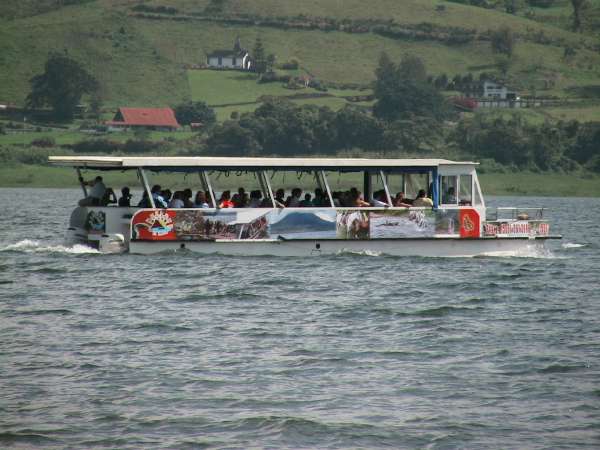 Taxi-Boat-Taxi or Jeep-Boat-Jeep - are unique ways of traveling across rivers, bays instead of driving around. These combinations of ground and water transportation usually save you time and most important, enables for scenic views of the very calandered landscapes of Costa Rica.

Shuttle - is a shared mini bus and in some cases a coaster. This is by no means a public bus. Shuttle service is scheduled, there is one scheduled stop where clients can stretch, use the facilities and get a snack. Both shuttle and private transport reservations should be scheduled in advance to ensure service. Shuttle routes are operated daily; some are available multiple times throughout the day. In same cases there is not door to door service for destination hotels unless arrangements are made in advance. In such a case there are often nearby hotels or drop off locations where a local taxi can operate the final leg - in most cases guests will be taken within a very short distance of there final destination.

Taxi, oh yes! How can we not foget to talk about the only word that is understood in all countries. Like all Latin countries they are plentiful. Need a taxi? Either stand on a street corner and wave at what you think is one, or just walk inside any crowded establishment and ask the person in charge to get you one. However, be prepared, if you are a big person, most taxis are small, and getting in an out, let alone traveling more than a few miles, don't expect comfort.
Driving is Costa Rica can be a trip. Crossing some of the suspension bridges can be a bit adventurous and scary if you are not used to it.