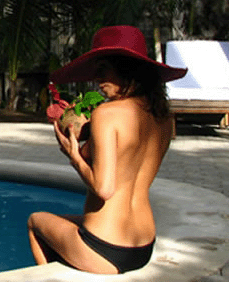 ADULT LIFESTYLES - SWINGERS and NUDISTS
Costa Rica has a number of hotels, resorts, businesses, organizations, associations and special interests groups who focus their attentions on the open-minded adult lifestyle. These are not places of prostitution, but well-run businesses that host such things as swingers and fetish nights where couples can explore ones individual sexuality.
Nudist camps can be found in the hills above San Jose, or on the Caribbean and Pacific coast where one can experience a clothing-optional atmosphere while enjoying an all inclusive vacation.

Exceptional accommodations, gourmet dining, and enticing activities such as nude yoga classes, sexy aqua fitness, and then gourmet dining backed with nightly entertainment is offered in many places, making it the perfect hideaway for couples.

Some of the places are affiliated with international adult clubs.