COSTA RICA MUSEUMS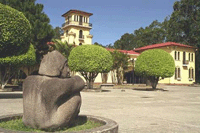 There are a wide selection of Museums of Costa Rica due partly to its high education standards and its long history of peace and prosperity. Most of these museums can be found in the Central Valley (Valle Central), especially in and around the capital city of San José.
The National Museum of Costa Rica in San José, founded in 1887, is a general museum with collections of pre-Columbian, colonial, republican, and religious art, a herbarium, and bird displays. The Museum of Costa Rican Art was founded at San José in 1977.
There are several other art museums in the capital as well, including the Indigenous Museum, the Museum of Precolombian Gold, and the Museum of Jade.